Well, despite a bumpy start (got one cat to the end of training, then adopted another so had to start over), we're finally finished. Completely. Utterly.
What makes me say that at this point and want to post here now, and not earlier, is that my parents have been staying over for the past few days. They've left stuff littered around the house, left the bedroom door open a couple of times by mistake and just generally given our two cats a lot of chances to go elsewhere. But they haven't. Even with my Dad not being particularly well trained, and leaving the toilet seat up, and occasionally shutting the bathroom door, both have done brilliantly. They've come meowing to me in complaint at his obvious lack of domestication, and have then used the toilet without issue, even with all the new smells and people. Additionally, even before my parents showed up, both have had free reign of the house at night for a few weeks now, and we regularly wake up to pee and poo in the toilet. Always a bit weird to feel happy to see it, but we are!
Gender of cats: A boy and a girl.
Breed: Ragdoll.
Length of time: Under two months initially for the boy (one of the rare '8 weeks' cats), although never 'fully' completed it. He was using the toilet seat, but only for about a week before we got Cinnamon. So, we started in November 2010, and JUST now (in July 2011) consider ourselves 'safe'.
Age of cats: The boy was 13 weeks old and the girl was a year and a half.
Our blog:
http://www.litterkwitter.com/forums/...ead.php?t=2314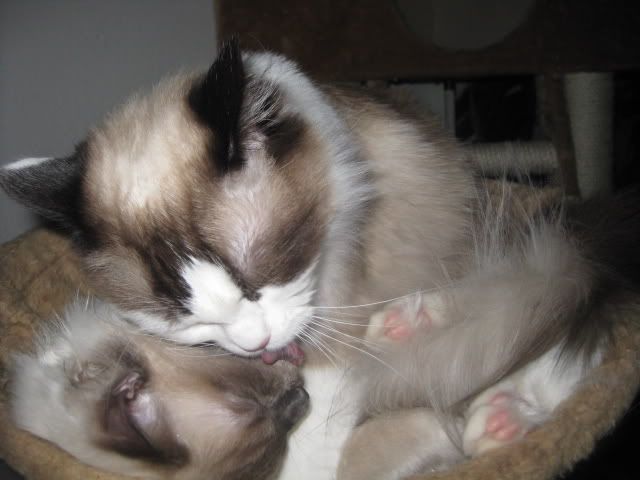 Just wanted to make this post to encourage people and show that it CAN be done. It just takes a lot of patience, treats, time and love. Not EVERY cat can be trained in my opinion, but the vast majority can. Most of it's down to the owner not giving up!
You can do it!